Outdoor cleaning
and maintenance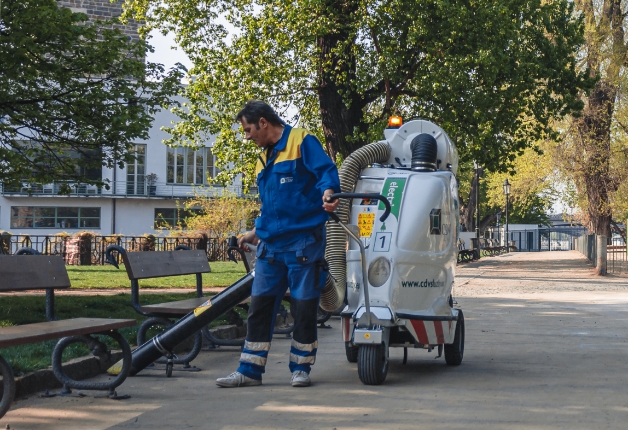 We provide comprehensive summer and winter maintenance of pedestrian roads, collection of dog excrement, maintenance of urban greenery and furniture, block cleaning and more…
Our strengths are many years of experience in the industry. We use modern cleaning technology. We have trained staff under professional guidance.
Why
us
Environmentally
friendly

State of the art
technology

Years of
experience

Stable
background
Offered services
Pedestrian roads
Mechanised cleaning with pre-crop
Manual cleaning
Manual final cleaning
Pressure water rinse
Winter maintenance
Greenery
Professional care of public greenery
Manual cleaning of public green spaces
Raking leaves
Spring cleaning
Cutting ruderal vegetation with a brushcutter
Seasonal services
Winter road maintenance
Raking leaves
Spring cleaning of public green spaces
Waste
Bin collection
Cleaning of container spaces
Maintenance of urban furniture
Collection of special dog waste bins
Refilling paper bags for dog excrement
Public areas
Playgrounds (cleaning, maintenance and operation)
Sports facilities
Cleaning up after events (concerts, reunions…)
Cleaning up after floods
Spring cleaning
Special services
Mechanised collection of dog excrements
Delivery and maintenance of road maintenance equipment
Maintenance of historical water features
Removal of wood debris
Would you like to
partner with us?
FAQ
During what hours do we provide services?

We are able to carry out services according to the customer's needs 24 hours a day, office cleaning is carried out either in the morning before the arrival of employees, or in the afternoon and evening after the departure of employees, or during the customer's working hours.

Do we offer services on the weekend?

Yes, according to the customer's needs, we are able to provide cleaning at any time of the day or night, even on weekends.

Do we offer lawn maintenance and gardening work for smaller private gardens?

YES, we are also able to provide mowing of smaller areas, including private gardens and unmaintained land.

Do we offer evening/night/morning cleaning?

Yes, according to the customer's needs we are able to provide cleaning at any time of the day or night.

Are we environmentally friendly?

Yes, we carry out all cleaning and janitorial work in accordance with sustainable development and the ISO 14001 standard.

How many vehicles do we have?

Over 50

Is regular cleaning done by the same people?

We try to ensure that the work is carried out by the same cleaning crews.

Rent a container?

Containers are included during cleaning work and green maintenance for contracted customers.

Bio-waste?

We arrange removal of bio-waste for further processing.
View all questions