Residential cleaning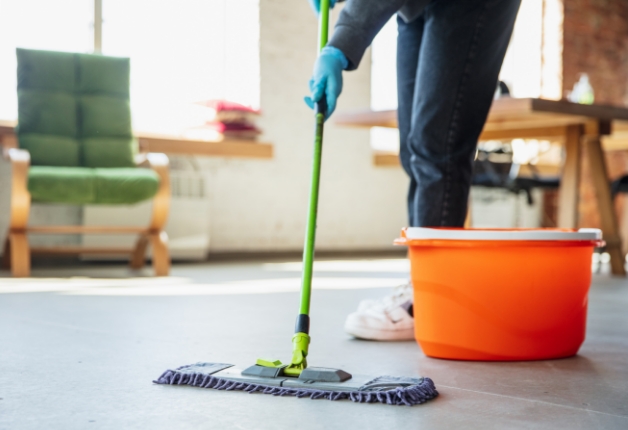 We provide comprehensive cleaning of common areas of residential buildings – tenement, panel and modern apartment complexes.
We have been in the business for 21 years. Our workers are flexible, we clean 365 days a year. Customer satisfaction and high quality service is our main goal.
Why
us
Environmentally
friendly

State of the art
technology

Years of
experience

Stable
background
We clean
Tenement houses
Panel buildings
Modern apartment complexes
Offered services
Regular cleaning of common areas
General cleaning
Cleaning windows and glass surfaces
Washing of suspended ceilings, lightings and railings
Elevator cabin cleaning
One-time big cleanups

After the constructions
Reconstructions
Floods

Cleaning of garages, parking spaces and adjacent areas

Machine washing
Manual washing

Pedestrian roads maintenance during winter
Washing facades and building envelopes
DDD services

Deratization
Disinfestation
Disinfection
Would you like to
partner with us?
FAQ
How often do we clean apartment buildings/offices?

Offices based on agreement 1 – 7 times a week, apartment buildings mostly 1 time a week.

Do we offer services on the weekend?

Yes, according to the customer's needs, we are able to provide cleaning at any time of the day or night, even on weekends.

Do we have to be present during the cleaning?

No, you don't have to – once the cleaning standards have been specified, cleaning can be carried out without your presence. Quality is assured by our trained staff and three-step quality control.

Do we offer lawn maintenance and gardening work for smaller private gardens?

YES, we are also able to provide mowing of smaller areas, including private gardens and unmaintained land.

Do we offer evening/night/morning cleaning?

Yes, according to the customer's needs we are able to provide cleaning at any time of the day or night.

Are we environmentally friendly?

Yes, we carry out all cleaning and janitorial work in accordance with sustainable development and the ISO 14001 standard.

How do I cancel the service?

According to the terms of the contract, written notice delivered by post or via data box.

Is regular cleaning done by the same people?

We try to ensure that the work is carried out by the same cleaning crews.

Do we do residential/household cleaning?

We currently focus on cleaning common areas of residential buildings.
View all questions